Frederick Barke (1842 - 1938)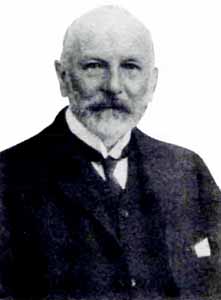 Frederick Barke was born in Shifnal, Shropshire in 1842. His work as a public works contractor involved him in Drift geology, but he was also interested in Carboniferous fossils, a few of which are housed at Stoke-on-Trent Museum; he collected from the North Staffs, and the Somerset coalfields. In addition it is also recorded that he had a good collection of Carboniferous Limestone fossils.
Interests: Drift deposits of North Staffordshire, Carboniferous fossils, Coal measures plant fossils.
Associations: North Staffordshire Naturalists Field Club: joined in 1876 and was Chairman of the Geology Section from 1892 - 1929. Barke published many reports for the North Staffordshire Field Club: see the Index to Reports: 1866-1898.
 Collections: Carboniferous coal measures plant fossils were donatedl to the North Staffordshire Naturalists Field Club museum in 1925. These were transferred to Stoke on Trent Museum in 1978. Carboniferous fossils were donated to the Hanley Corporation in 1935. Further information about the histories of these collections can be found online via Stoke-on-Trent Museums and the Natural Science Collections West Midlands page on The Potteries Museum & Art Gallery
Links to other Geologists: Kidston and Hind are reported to have used material collected by Barke in various monographs.
Obituary: Scott, A., (1938/39). Transactions of the North Staffordshire Field Club; 73; 72-76.
Further information: Steward, D.L., (1984). Collections, Collectors and Museums of note: No. 37, Geology at Stoke-on-Trent Museum and Art Gallery. The Geological Curator: 4 (1); 29-42 [online]